"Molecule of the Week" layihəsi çərçivəsində Zərnigar Cəfərzadə tərəfindən yazılan məqalə: "Zoliflodasin".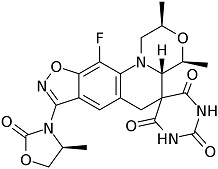 Molekulyar formulu: C22H22FN5O7
Fiziki xassələri: Molyar kütləsi 487,4 q∙mol-1. Bərk maddədir. Suda həll olması 0,6 q/l.
Zoliflodasin "Neisseria gonorrhoeae" (qonoreya) infeksiyasının müalicəsi üçün tədqiq edilən eksperimental antibiotikdir. Bakterial tip II topoizomerazların inhibəsini əhatə edən yeni bir təsir mexanizminə malikdir. O, "Entasis Therapeutics" tərəfindən hazırlanır və (2020-ci ildən etibarən) III Faza klinik sınaqlarındadır.
Qonoreya – cinsi yolla ötürülən infeksion-zöhrəvi xəstəlikdir. Onu neyseriya cinsindən olan qonokoklar törədir.
Qonoreya beynəlxalq səviyyədə əsas sağlamlıq problemlərindən biridir, xüsusən də "Neisseria gonorrhoeae"-nın bütün terapevtik antimikroblara qarşı artan müqaviməti və yüksək dərəcədə infeksiyanın yayılması onu mühüm problemlərdən biri etmişdir. Qonoreya aşkar edilmədikdə və müalicə edilmədikdə  sonsuzluq və ektopik hamiləlik kimi ciddi fəsadlarla nəticələnə bilər.
Zoliflodasin müqavimətinə malik heç bir kliniki qonokok təcridləri hələ müəyyən edilməmişdir. Zoliflodasin (ETX0914; AZD0914) yeni spiropirimidintrion bakteriya DNT giraz/topoizomeraz inhibitorudur. Bu maddə qram-müsbət və qram-mənfi orqanizmlərə, o cümlədən MİK90 0,25 mkq/ml olan S. aureusa qarşı güclü invitro antibakterial fəaliyyətə malikdir.
Ağırlaşmamış sidik-cinsiyyət və rektal qonokok infeksiyalarının əksəriyyəti oral zoliflodasin ilə uğurla müalicə olunur, lakin bu agent faringeal infeksiyaların müalicəsində daha az effektivdir.
Ədəbiyyat:
6971
0
0
login-check
Zoliflodasin