"Molecule of the Week" layihəsi çərçivəsində Günel Əzimova tərəfindən yazılan məqalə: "Hidroksilammonium Nitrat".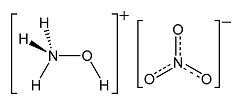 Kimyəvi formulu: H4N2O4
Molyar kütləsi: 96,04 q/mol
Sıxlığı: 1,84 q/sm3
Qaynama nöqtəsi: 48 0C
Suda həll olandır.
Hidroksilammonium nitrat (HAN), yaxud da hidroksilamin nitrat kimyəvi formulu [NH3OH][NO3] şəklində olan qeyri-üzvi birləşmədir. Bu hidroksilamin və nitrat turşusundan alınan duzdur. Rəngsiz, hiqroskopik maddədir.
Hidrazin əvəzedicisi kimi tədqiq edilən müxtəlif qeyri-toksik kimyəvi maddələr arasında hidroksilammonium nitrat (HAN) kosmik vasitələr üçün ən perspektivli və ən geniş şəkildə araşdırılmış mono raket yanacağı kimi istifadə olunur. HAN laboratoriyada sulu və ya üzvi mühitdə hidroksilamin duzu ilə metal nitrat duzu və ya sərbəst hidroksilamin əsası ilə nitrat turşusu (zərərsizləşmə reaksiyası) arasında reaksiya yolu ilə hazırlana bilər. İstifadə olunacaq metal nitrat duzunun ikiqat parçalanma metodu üzvi mühitdə daha yüksək həllolma qabiliyyətinə malik olmalıdır. Bu üsul sadədir və heç bir mərhələdə heç bir təhlükə yaratmır və minimal imkanlarla laboratoriya miqyasında həyata keçirilə bilər. Müxtəlif metal nitrat duzları arasında, barium, kalsium və natrium nitratları ikiqat birləşmə metodunda ən çox istifadə edilən prekursorlardır. Reaksiya (hidroksilamin-sulfat) HAS-ın sulu mühitdə metal nitrata yavaş-yavaş əlavə edilməsi ilə həyata keçirilmişdir. Alınan metal sulfat təkrar filtrasiya ilə ayrılıb.
Azot turşusu ilə hidroksilaminin neytrallaşması ilə hidroksilaminin hazırlanması:
NH2OH + HNO3 → NH3OH+ + NO3–
Hidroksilammonium sulfat və metal nitrat arasında ikiqat parçalanma reaksiyası ilə hidroksilammonium nitratın hazırlanması:
(NH2OH)2 ∙ H2SO4 + M(NO3)2 → 2NH2OH∙HNO3 + MSO4
Hidroksilammonium nitratın laboratoriya üçün hazırlıq proseduru:
İkiqat parçalanma;
Neytrallaşdırma;
İon mübadiləsi;
Elektroliz;
Azot turşusunun hidrogenləşməsi;
Azot oksidlərinin katalitik reduksiyası.
Xassələri: Hidroksilammonium nitrat hidroksiammonium və nitrat ionlarına ayrılmış mürəkkəb birləşmədir. Bu birləşmə qeyri-stabildir, çünki tərkibində həm oksidləşdirici, həm də reduksiyaedici birləşmə vardır. Bu da ammonium nitrat ionuna oxşayır. Adətən sulu məhlul kimi istifadə olunur. Məhlul zəhərlidir, kanserogen mənşəlidir.
Tətbiqi: Hidroksilammonium nitrat həm maye, həm də bərk formada raket yanacağı kimi istifadə olunur. HAN və ammonium dinitramid başqa bir energetik üzvi birləşmədir.
Ədəbiyyat
7168
0
0
login-check
Hidroksilammonium nitrat