"Molecule of the Week" layihəsi çərçivəsində Zərnigar Cəfərzadə tərəfindən yazılan məqalə: "Zinqiberen".

Molekulyar fomul: C15H24
Fiziki xassələri: Molyar kütlə – 204,35 q·mol-1. Sıxlığı – 871,3 mq/sm3 (20 °C-də). Qaynama temperaturu- 135 °C.
Beynəlxalq adı 2-metil-5-(6-metilhept-5-en-2-il)tsikloheksa-1,3-diendir. Zinqiberen adının mənşəyi zəncəfil (Zingiber officinale) yağının əsas tərkib hissəsi olan monotsiklik seskviterpendən gəlir. O, zəncəfil rizomlarında olan efir yağlarının 30%-ə qədərini təşkil edə bilər. Bu, zəncəfilin özünəməxsus ləzzətini verən birləşmədir.
Biosintezi. Zinqiberen farnezil pirofosfatdan izoprenoid alınması zamanı əmələ gəlir. Zinqiberenin əmələ gəlməsində son mərhələ tsiklik allil protonun çıxarılması və nəticədə ikiqat rabitənin əmələ gəlməsidir. Zinqiberen sintaza digər mono- və seskviterpenlər kimi zinqiberen əmələ gətirən reaksiyanı kataliz etməkdən məsul olan fermentdir.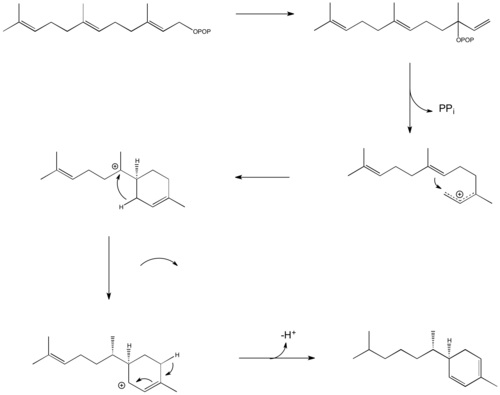 Tədqiqat araşdırmalarına görə zinqiberen aşağıdakı xüsusiyyətlərə malikdir:  Antioksidant, iltihab əleyhinə, şiş əleyhinə və mikrob əleyhinə, virusların yaratdığı infeksiyalarla mübarizə aparmağa, mədə xorasından qoruyucu, enerji mənbəyi.
Bolluğu, aşağı qiyməti və istehlakda təhlükəsizliyi sayəsində zəncəfil böyük potensiala və əlavə araşdırma üçün saysız-hesabsız imkanlara malik bir növ olaraq qalır. Zəncəfilin fərqli farmakoloji fəaliyyətləri müxtəlif fitokimyəvi maddələrin olması ilə əlaqədardır. Müəyyən farmakoloji təsirlərə (insanlarda hərəkət xəstəliyinə və xemoterapiyanın səbəb olduğu ürəkbulanmaya qarşı antibakterial və antiemetik təsirlər) gəldikdə ziddiyyətli nəticələr müşahidə olunur və bu, istifadə edilən zəncəfilin tərkibindəki fitokimyəvi maddələrin müxtəlifliyi ilə əlaqədar ola bilər.
Ədəbiyyat:
Baliga, M.S. (2013). Bioactive Food as Dietary Interventions for Liver and Gastrointestinal Disease || Ginger (Zingiber officinale Roscoe). , (), 187–199. doi:10.1016/b978-0-12-397154-8.00189-5 
7127
0
0
login-check
Zinqiberen